Back in Sugarcreek–this time without my son Jacob, who, when I tried to talk him into coming back with me reminded me that he really does have a job…..and would like to keep it! I had to go home for a couple days to wash clothes, repack, pay bills, and check in with my family.
There is no reason that I need to be on set–the crew certainly doesn't need me there. It's just that I want to see everything and the producer and director are kind enough to let me watch.
The big news today (for me) was that Kelly McGillis is in town. She didn't have a scene today, so I didn't get to meet her yet, but I have admired her work for years. It's going to be difficult not to stutter when I do meet her.
While I was gone, they did a scene where Aunt Bertha (Kelly) is holding a sick little boy late at night, and there is an intense conversation between her and the little boy's daddy. One of the crew told me that while watching that scene they completely forgot that a movie was being made–and just got completely caught up in the emotion. Kelly really is that good!
Today, we worked on the Steinstossen scene from the annual Swiss Festival (men compete in throwing a 138 lb. stone.) And we had lots of movie extras in the stands cheering them on. The stone is hard to handle, very heavy, and feet have been broken in the past when the stone slipped out of the men's hands. Fortunately, we didn't have any accidents today–but I know there will be plenty of sore muscles. I'm pretty sure it was the real-life Steinstossen champion throwing against my hero, Joe, today….but I'm afraid the game was rigged. Joe won!
Sarah Lancaster was playing the part of a Sugarcreek cop again today. There was a scene when she has to tear out of the parking lot in a squad car (she's taking Joe's little boy to the hospital) and was supposed to screech her tires. She nailed it every time. That Sarah can drive!
And then after the filming was over for the day, the Swiss Festival got into full swing. Oh my! The food! There's a tent just for apple fritters, and another one for fried pies.The excellent local Trail bologna made into sandwiches with local Swiss cheese. Roasted, glazed pecans and almonds. Steak sandwiches smothered with sauteed peppers and onions. Kettle corn–made on the spot–so fresh. All while the best cheese in the world is being judged, auctioned, and sampled.
And down through the middle of it all—here comes the Garraway marching band.
I'm having more fun than any one person has any right to have! Can't wait til tomorrow.
-Serena
Wikipedia link for more information on Steinstossen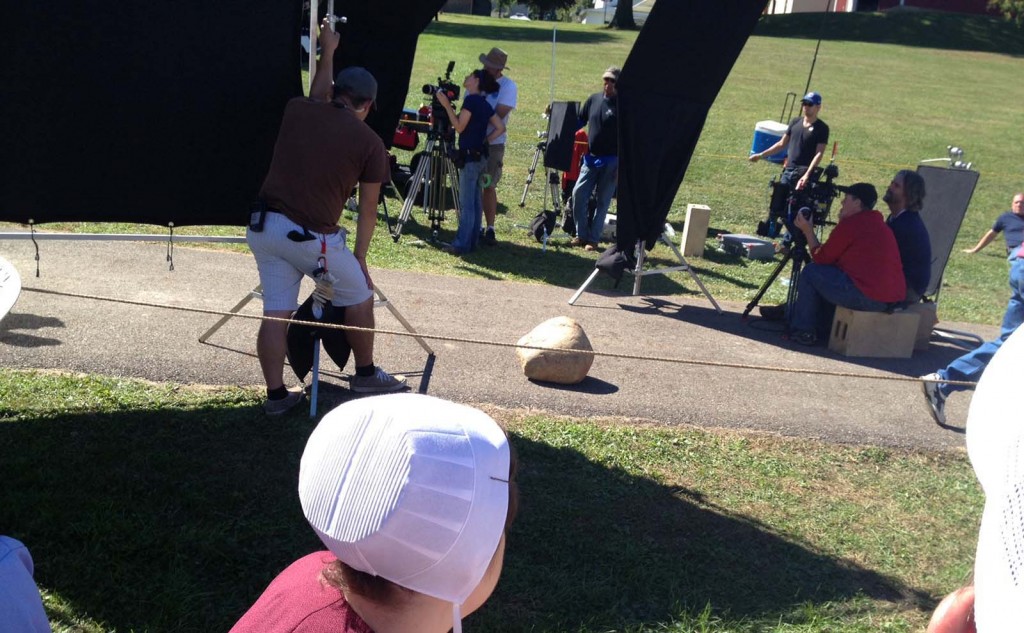 (On set. Shot from the stands overlooking the Steinstossen event)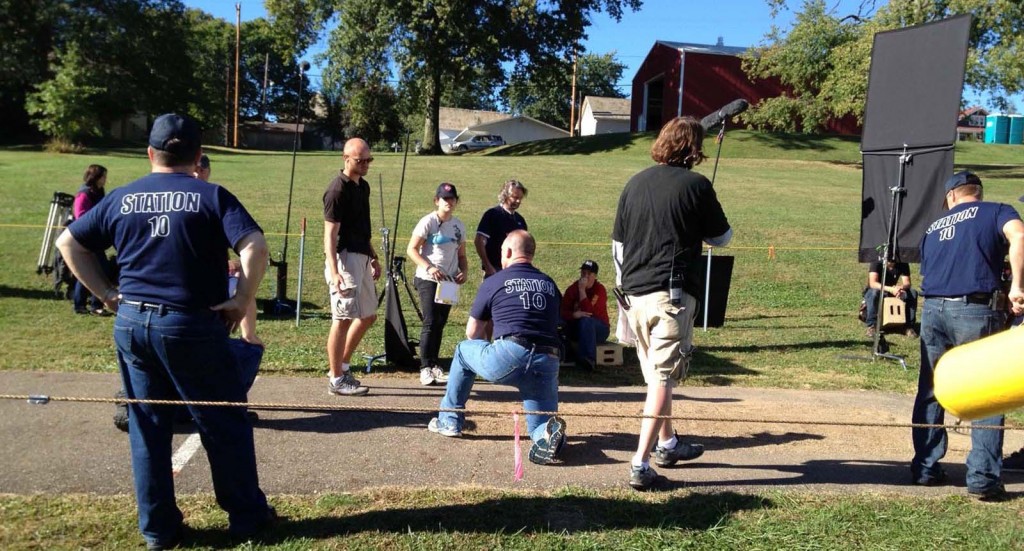 (On set. Cleaning up the pit to accept the falling stone!)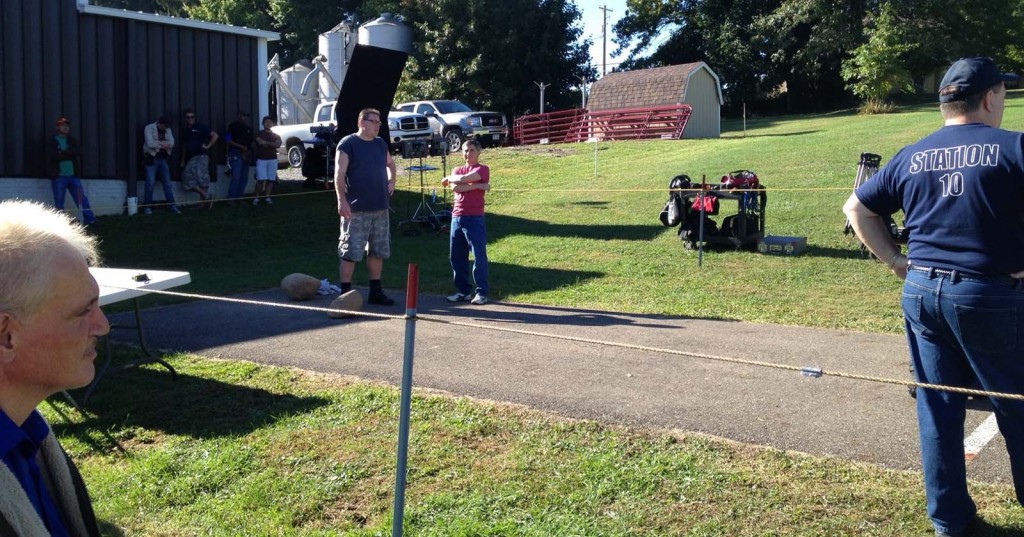 (On set. Some contestants getting ready to throw the stone!)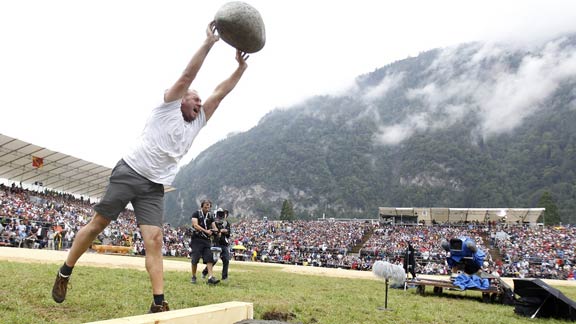 (In Switzerland at a Steinstossen event. This is Peter Michel, a champion of the event for multiple years. This is just a reference to show how big and how serious this event is taken)