We filmed out at the farmhouse today. The main scene they worked on was the one I opened with in the book–where Rachel (Sarah Lancaster) is trying to talk her three elderly aunts into closing the Sugarhaus Inn. They are reluctant to do so, and try to deflect her request. Finally Bertha (Kelly McGillis) agrees to close down the Inn–under one condition–that if God brings a stranger to their door that needs their help, they will not turn that stranger away. In the background is a wooden plaque with the scripture about entertaining angels unaware hanging on the wall. Rachel (Sarah) is not happy with this and starts to protest, but Bertha (Kelly) stands up and in that perfect Amish accent says "This is scripture, Rachel, and we will not compromise on doing God's will."
With that, yet once again, I was clawing in my purse for a tissue,so amazed to hear words I had written come to life.  One of the crew members, a man of faith, came over, gave me a hung and whispered in my ear "We will not compromise on doing God's will."  Of course that made me tear up even more. Honestly–in my normal life I seldom cry–but watching these amazing actors is keeping me right on the edge.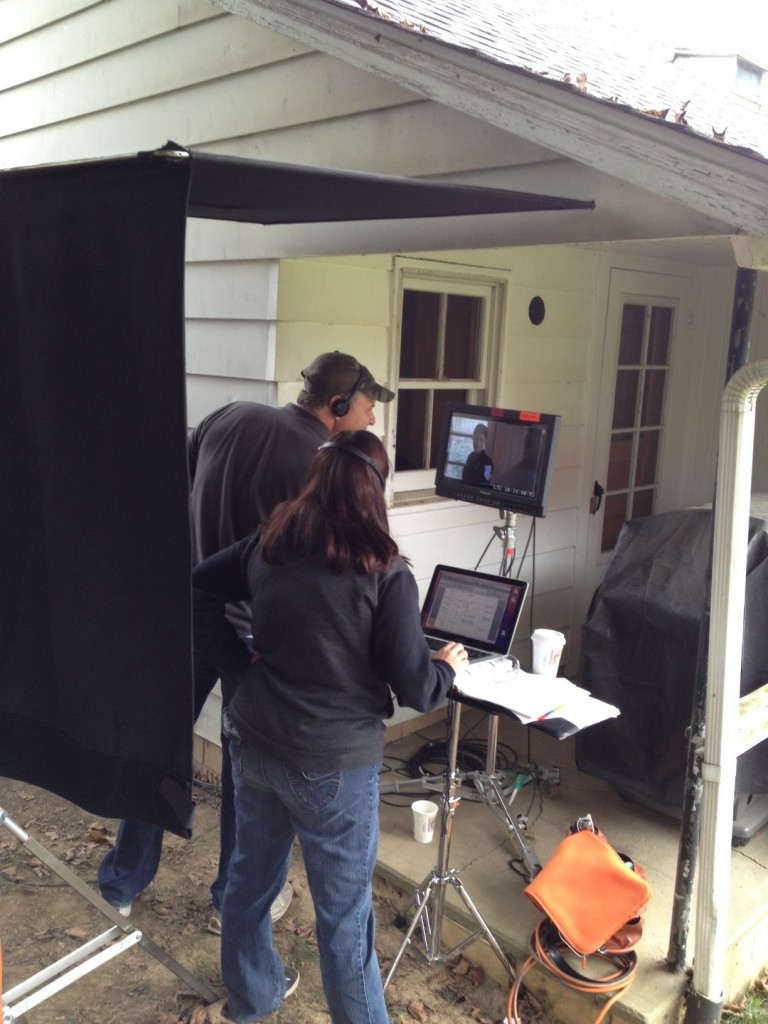 I spent several hours with head phones on this morning, in a crowded, back basement room, enjoying watching the movie unfold on the monitors–while Terry Cunningham, our director, orchestrated the actors' movements, camera angles, lighting, and the nuances of the actor's expressions and voices. I notice that he watches every little thing even down to the placement of a drinking glass. For some reason, I had gotten the impression that movie directors wore silk scarfs and French beret's while stomping around yelling at actors. Instead, our Terry seems to always be in a great mood, wears a baseball cap, quietly instructs and encourages his actors and crew–and then good things start to happen when the cameras roll.
Unfortunately, today was another day with me in front of the camera, too. This was not part of the movie, and it is definitely not something I am good at, but George, the producer, wanted to film me doing an interview. He and the camera man set me up outside the farmhouse so that we would have a beautiful view in the background. Unfortunately, this quiet country farm turned into Grand Central Station the minute we started. We had planes flying overhead, horses neighing, cicadas buzzing, and trucks and cars rattling by on this normally quiet, dirt, road. Oh-and there were the yellow jackets that we had to keep waving out of our faces. I have no earthly idea what I said, but George was kind enough to assure me that they could edit it…..
Did one last book signing in Sugarcreek, then went to hunt up some of my new friends who were filming bits and pieces of the Swiss Festival. As soon as the filming was over,  we scouted out the best carney food together. This is not as easy as it sounds. It required much thought and discussion. Healthy alternatives were considered and quickly dismissed. In the end, a great deal of Reeses Cup funnel cake and Fried Swiss Cheese on a stick was consumed at our table. Four intelligent women, all of us watching our weight, threw caution to the wind and managed to eat enough calories to fuel a truck. I think it was the Polka music playing in the background and the dancing in the streets (not me)  that made us do it.
Tomorrow is Sunday, and the crew all get the day off to rest up. I'm hoping to use the quiet of my hotel room to work on my next book after church.
-Serena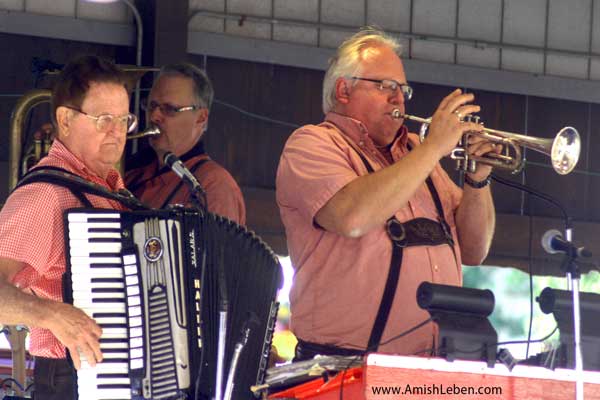 (Some pictures of the Polka Music Masters at the Swiss Festival!)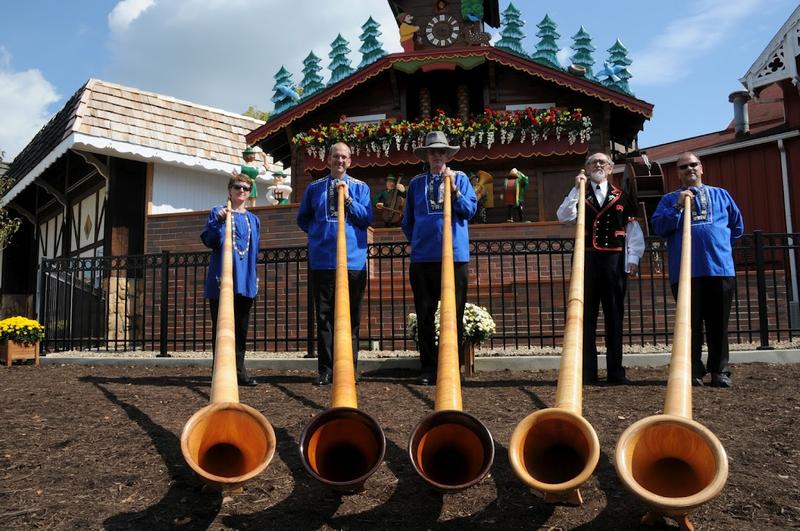 (Columbus Swiss Singers Alphorn Player Group – 2012 Ohio Swiss Festival)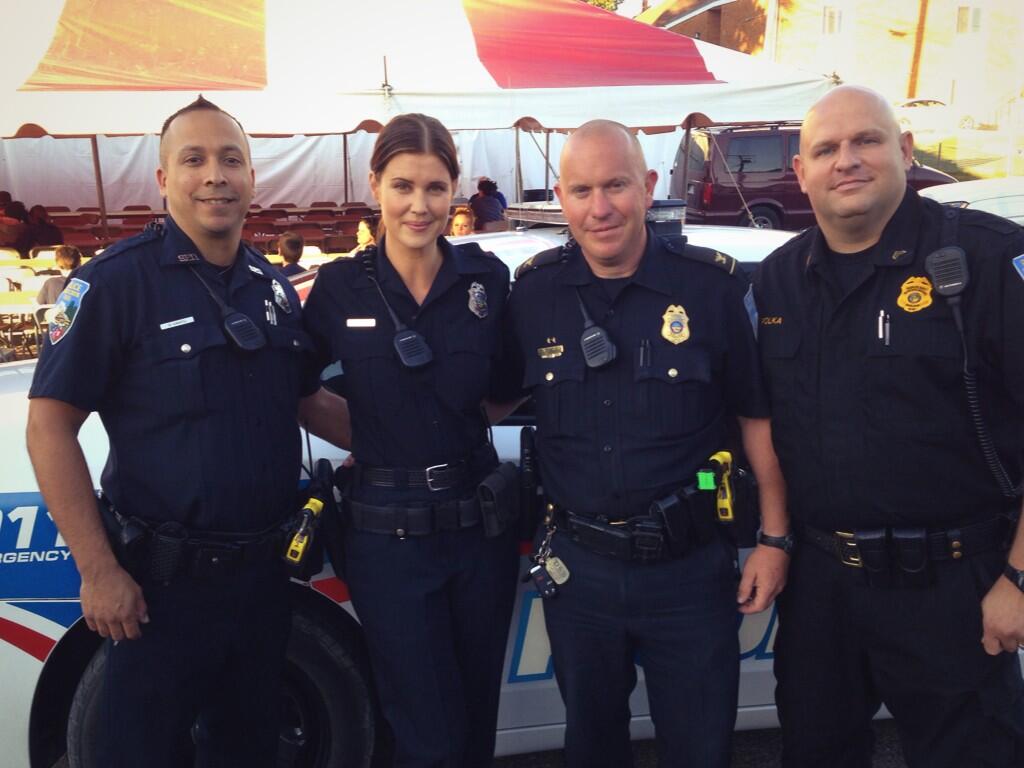 (Our amazing Sarah Lancaster *Rachel* (Follow on Twitter) posing with the Sugarcreek Police force. Thank you Kevin, for all the hard work and willingness you and your team have put into making this movie possible!)