It has taken a couple days to write about this–a couple days to believe that it is true.
On this past Saturday night, my second novel, The Measure of Katie Calloway won the most prestigious award in the romance genre–the RITA.
I was up against such strong writers, I didn't think I had much of a chance. Still….I watched the tweets of those who were at the awards banquet in Anaheim with a small flicker of hope in my heart.
Then I saw my name come up as the winner of the inspirational genre and I will never forget that moment as long as I live. I screamed, and my husband came running. Then he realized what had happened and threw his arms around me and we hugged and cried and laughed and sobbed. It has been a long, long road.
I read many times that it was practically impossible for an unknown author to get published anymore. I kept telling myself that the Lord had never asked me to be successful, He had only asked me to be faithful.
It's hard to write year after year with nothing to show for it except a stack of unpublished manuscripts and the blind faith that some day all those hours will mean something.
And then, after over a decade of hard work, Sandra Bishop came into my life and quickly established herself as one of the best literary agents in the world. Vicki Crumpton turned out to be the perfect editor for my historicals. As these two women and I worked together, I began to think that maybe we were creating something special.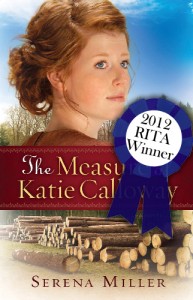 Saturday night I learned that The Measure Of Katie Calloway truly was a winner. I am so grateful. It is no small thing to be allowed to make a living—while living a dream.